SOULSPACE gift certificate  sublime and unforgettable experience
Give an unforgettable sensorial experience, for peace of mind and joy of skin, give a SOULSPACE gift certificate sensorial pleasentness, complete relaxation, emotions and unique experiences for someone really special.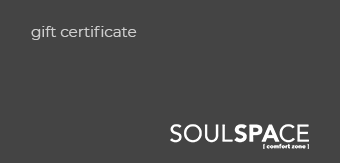 How to order a Soulspace Gift CERTIFICATE
Choose the ritual, massage or treatment you wish to give as a gift
Indicate the name and surname of the person(s) to whom you want to make the gift
You have the right to indicate the date you want the Gift Certificate to have (for example, that of an anniversary), otherwise we will apply today's date. From the date indicated on the Gift Certificate, its validity of 1 year also begins.
Write the message or dedication you want to be included on the Gift Certificate (optional)
Write your name, surname, e-mail address and phone number.
Choose your method of payment:

bank transfer
credit/debit card

Based on your choice, we will send you our IBAN code to make the bank transfer, or the link for payment for credit/debit card payments.

Click the SUBMIT button.
Once the payment has been confirmed, we will send the Gift Certificate in pdf format to your email address.